Required fields are marked *.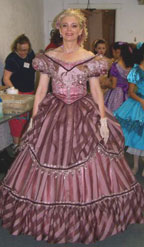 My name is Kathy Nelson and I've been an adult ballet student at the Alonzo King Lines Dance Center in San Francisco, CA for a little over a year now, however, I started dancing when I was very young and for one reason or another never became a professional. I think at one time or another, I've dabbled in just about every form of dance from square dancing, ballroom and swing, to vintage, jazz and flamenco. Flamenco was one of my very favorite forms of dance, but ballet has always been my first love.
As I've realized that dance is my true passion in life – I am currently developing a non-profit organization based on encouraging and supporting Adults in Ballet (and other forms of dance) both at the serious amateur level (like myself) and adult professionals (including dance companies and choreographers). If you'd like to know more, please use this form to contact me.